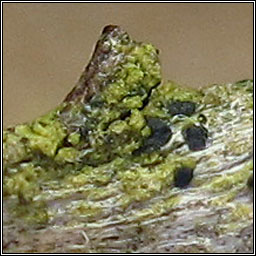 Micareaceae
Micarea nitschkeana

Growth type crustose
Chemical results: Thallus and apothecia K-, C+/- orange-red.
Upper hymenium and pycnidia K+ violet

Can be common on small branches and twigs of acid-barked trees and shrubs, especially Calluna, Erica and Gorse.

Very similar to Micarea denigrata. Apothecia convex to sub-globose, discs grey to black but pale in shade. Spores are (1-)3(-4) septate, often curved, 10-17(-19) x 2.5-3(-3.5) Ám. Microscope photograph below.