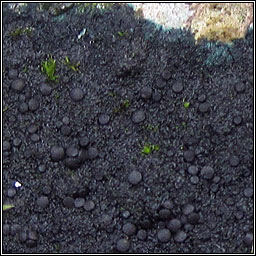 Placynthiaceae

Placynthium nigrum

Growth type crustose / squamulose
Chemical results negative.
Common on both natural and man-made calcareous substrates including limestone rocks, cement and mortared walls.

Black or blackish-brown thallus comprised of very small granular or digitate squamules surrounded by bluish prothallus. Apothecia have glossy, black discs with blue-green epithecium. Isidia often present. Spores 1-3 septate, (7-)9-18(-22) x 3.5-6 Ám. Photobiont cyanobacterial. Micro photos below.

Sometimes found with Toninia verrucarioides: Crenulate green to grey-brown squamules, apothecia to 1mm diam. Epithecium brownish-black, sometimes with faint green tinge. Hypothecium dark red-brown, the spores (1-)3 septate, 10-18 x 4-6 Ám. Photobiont chlorococcoid.