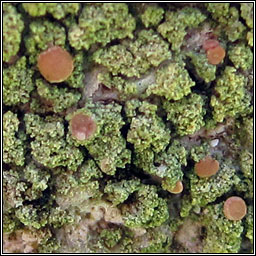 Ramalinaceae
Bacidia rubella

Growth type crustose
Chemical reactions negative

On nutrient-rich bark on the trunks of mature trees on rich soils. Rare on sheltered walls and gravestones, absent from polluted areas.

Minutely granular yellow-green to greyish thallus, the granules appearing isidia-like. Flat or slightly convex sessile apothecia, pale to dark reddish-brown. Margins usually persistent, sometimes pruinose. Spores 3-7(-13) septate, 50-70 x 3-4 Ám. Pycnidia pale pink to reddish-brown.
Microscope photograph below.