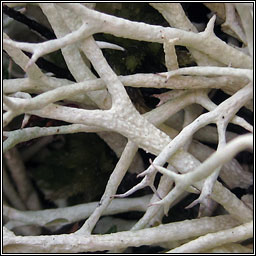 Cladoniaceae
Cladonia zopfii

Identification by Neil Sanderson
Chemical results: Thallus K-, C-, KC+ yellow, P-. Cortex UV-

Rare, very local distribution on open, gravelly ground. Most records are from the Scottish Highlands and from dunes in NE Scotland.
BLS conservation evaluation: LC NS

Very similar to C. uncialis. Forms mats or clumps of erect or +/- decumbent podetia, whitish or creamy but appearing greener when wet. Clumps of algal cells present in cortex. Podetia hollow, the inner surface longitudinally fibrillose-striate (visible with hand lens).

Similar: C. uncialis subsp. biuncialis. Inner surface of podetia smooth.