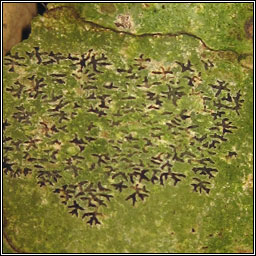 Graphidaceae
Phaeographis inusta

Growth type crustose
Chemical reactions negative

Occurs on deciduous trees (especially Hazel) in mature woodland.
BLS conservation evaluation: Nationally Scarce, International Responsibility

Pale grey to pale yellow-brown thallus, often with an olive-greenish tinge. Immersed, grey-black, +/- stellate apothecia without white thalline margins. Spores brown, 3-5 septate, 16-25 x 7-9 Ám. Micro photograph below.

Similar: Phaeographis dentritica and P. smithii are both K+, P+.
Graphis scripta has slit-like discs in narrower lirellae.