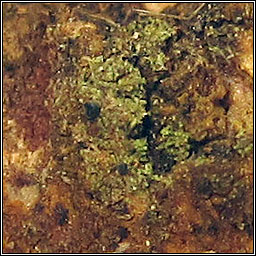 Ramalinaceae
Bacidia egenula

Growth type crustose
Chemistry: Upper exciple K +/- purple-red, epithecium K-, N+ red-violet

Usually on shaded calcareous rocks, sandstone and bricks, rare on bark and fence posts. BLS conservation evaluation: LC NS

Finely granular yellow-green or pale brown thallus, flat grey, brown or black apothecia with green epithecium and brown upper hypothecium. The spores are 3(-7) septate, 25-40(-45) × 1.5-2(-2.5) µm. Pycnidia rare, +/- immersed. Microscope photographs below.