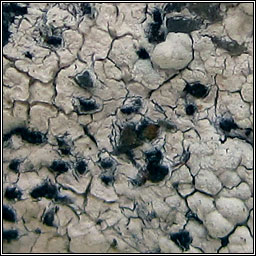 Caliciaceae
Diplotomma alboatrum

Growth type crustose. Chemical results negative
On calcareous rocks and mortar, also recorded from nutrient-enriched, basic-barked trees.

Very variable. White, pale or dark grey thallus, apothecia often pruinose with thin grey margins. Spores brown, 1-3 septate becoming submuriform, (11-)15-20(-30) x (6-)8-10(-17) Ám. Microscope photographs below.
Sometimes host to Arthonia punctella and Verrucaria latericola

Similar: D. chlorophaeum. K+ yellow>red, P+ orange. Discs not pruinose.
Diplotomma hedinii, spores without longitudinal septa, frequently curved.
D. pharcidium. Corticolous, often not pruinose, spores +/- slightly curved.
Diplotomma murorum occurs on the thallus of Caloplaca teicholyta.