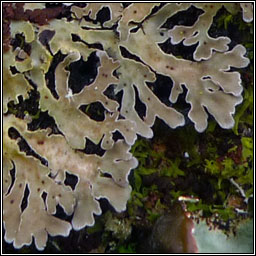 Physciaceae
Physconia distorta

Growth type foliose
Chemical results: Cortex and medulla K-

Widespread on well-lit trunks and branches of basic or nutrient-rich trees, often growing over moss. Occasional on rocks

Lobes green when wet, brownish-grey dry, tips white-pruinose. Often small lobules in centre of thallus. Under-surface black in centre with black 'bottle-brush rhizines. Apothecia frequent, brown with coarse pruina and thick margins. Pycnidia frequent. Spores brown, 1-septate, 25-40 x 12-20 Ám. Microscope photograph below.