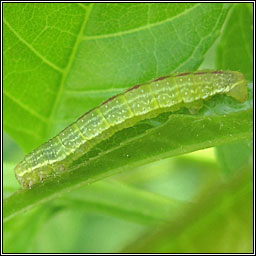 Geometridae Larentiinae

ABH 70.107x
B&F 1795x * Epirrita dilutata agg * November Moth agg


Widespread, common. November Moth, Pale November Moth and Autumnal Moth are similar, variable and require dissection for accurate identification.
Wingspan: c.36mm

Season: September-November
Habitat: Woodlands, gardens, hedgerows and parkland

Larvae feed on the leaves of a wide range of deciduous trees and shrubs

Similar: Winter Moth. Usually smaller with more rounded wingtips.