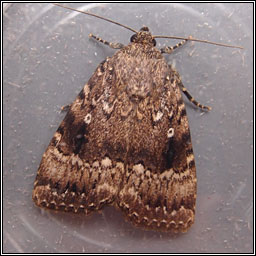 Noctuidae Amphipyrinae

ABH 73.062x
B&F 2297x * Amphipyra agg. * Copper Underwing agg.


Common
Wingspan: 40-52mm

Flight time: August-September
Habitat: Woods, hedgerows, parks, gardens
The larvae feed on a wide range of trees, shrubs and coppice regrowth

The examination of the underside and genitalia are needed to separate Copper Underwing (Amphipyra pyramidea) from Svensson's Copper Underwing (A. berbera).