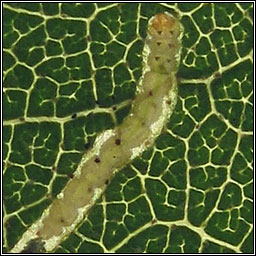 Lyonetiidae  Lyonetiinae 

ABH 21.001
B&F 263 * Lyonetia clerkella * Apple Leaf Miner

Photographs: Mines on Birch (Betula), Apple (Malus) and Amelanchier

Wingspan: 7-9mm
Flight time: April-September

Food plants: Various Rosaceous species, also Birch (Betula)
Mine: May-October
Egg is laid inside leaf. A long, curving, whitish mine with broken frass occurs on the upper surface of the leaf. The larva is deeply segmented.