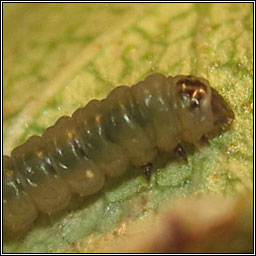 Gracillariidae Gracillariinae

ABH 15.025
B&F 301 * Parornix betulae

Leaf mine photographs on Birch, Betula

Wingspan: 9-10mm. Adults need gen.det. for identification
Flight time: May and August.

Food plant: Birch (Betula spp.)
Mine: June and September-October
Egg on underside. Initially forms a Phyllonocter-like mine but brown rather than green beneath, clumped frass in a corner. The larva leaves the mine and continues feeding under a downwards fold of the leaf margin or tip.