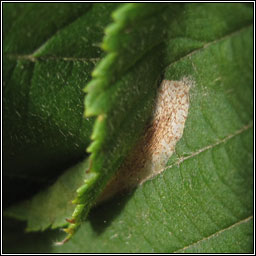 Gracillariidae Lithocolletinae

ABH 15.064
B&F 342 * Phyllonorycter coryli * Nut Leaf Blister Moth

Leaf mine photographs on Hazel, Coryllus avellana.

Wingspan: 7-9mm
Season: May and August

Food plant: Hazel (Corylus)
Mine: July and September-October
Upper surface mine over vein. Initially appears as a flat, silvery blotch with brown speckles, then contracts, folding leaf upwards. Frass in opposite corner to pupa. Can be several mines in each leaf.