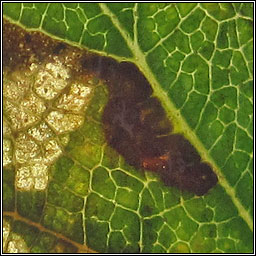 Nepticulidae

ABH 4.100
B&F 35 * Ectoedemia minimella

Leaf mine photographs on Birch, Betula. October 2016

Wingspan: 5-6mm
Season: May-June

Food plants: Birch (Betula) and Hazel (Corylus avellana)
Mine: July-September
Egg is laid on the lower surface. A short, contorted corridor leads to a blotch with disprsed frass. Larva is yellowish with a light brown head. Dark plates can be seen on each segment of the early larva.