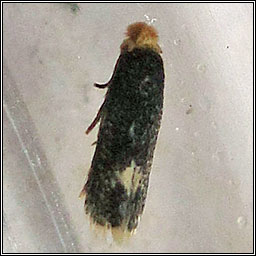 Nepticulidae

ABH 4.078
B&F 42 * Ectoedemia septembrella / Fomoria septembrella

Leaf mine on St. John's-wort, Hypericum. September 2011.

Wingspan: 5-6mm
Season: May-June and August


Food plants: St. John's-wort's (Hypericum spp.)
Mine: July and October-December
The egg is laid on the underside of the leaf. A narrow, winding corridor with broad, linear frass leads to a +/- inflated blotch.