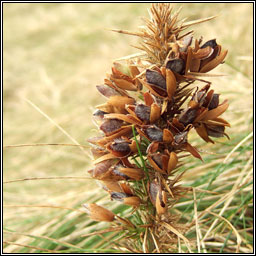 Family: Fabaceae
Ulex gallii * Western Gorse


Flowering time: July-September. Evergreen shrub.

Habitat: Infertile acidic heaths, upland grasslands, sea cliffs and wasteground. Very common west of a line from Dorchester > Nottingham > Edinburgh and on the coast of East Anglia.

Golden-yellow flowers in lateral clusters on a low, spreading, spiny shrub, spines less grooved than those of Gorse/Furze, Ulex europaeus. Young plants have leaves with three leaflets (ternate). Height to 1.5m.

Intermediate between Gorse, U. europaeus and Dwarf Gorse, U. minor.