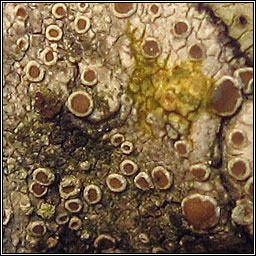 Lecanoraceae
Lecanora chlarotera

Chemical results: K+ yellow, C-, P-. Apothecia margins P-

Common on tree trunks, branches and twigs, also on fences and timber.
Associated lichenicolous fungi include Vouauxiella lichenicola, Stigmidium congestum and Unguiculariopsis thallophila

Very variable, the pale grey or creamy thallus thick or thin, warted or smooth. Abundant apothecia, buff to reddish-brown, the thick, persistent margins containing large, angular crystals. Epithecium covered with small granules visible in water, dissolving in K. Spores simple, 10-15 x 6-8 µm. Microscope photographs in water below, showing granules and crystals.

Similar: Lecanora pulicaris, smaller discs, the narrow margins P+ red.
Lecanora argentata. Black prothallus, no granules present in epithecium.