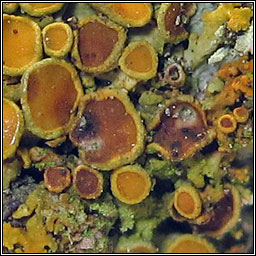 Incertae sedis
Lichenoconium xanthoriae #

Lichenicolous fungus on Xanthoria polycarpa
Identification confirmed by Brian Coppins

Widespread but infrequently recorded from the apothecia of Xanthoria polycarpa, Xanthoria parietina, Cetrelia olivetorum, Cetraria sepincola. Brown conidia, (2.5-)3-4.5(-6) µm in diameter.
BLS conservation evaluation: LC NS

Microscope photographs below.

Similar: Lichenoconium lecanorae. Widespread on Lecanora species, Evernia prunastri, Punctelia, Parmelina and Parmelia species.
Conidia (2.5-)3-4.5(-5.5) µm diameter, globose or subglobose.